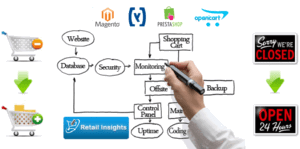 1.

    
30-60-90 day objectives with X sales commitment
2.

    
Identify features that part of the development roadmap with cutover plans
3.

    
Integration with Enterprise Application for automation of merchandise activities
4.

    
Infra Management /Application Support for Business Continuity
5.

    
Event planning for timely skin changes and give fresh look for the customer experience.
6.

    
SEO/SEM activity running parallel to the existing development road map.