Harness the power of value-driven AI using generative and predictive AI to propel your retail business toward lasting success.
Artificial Intelligence is revolutionizing the retail landscape
Accurate and organized data is essential for any business's growth. Retail Insights Intelligent Content Engine can tag eCommerce products with rich attributes and extract meaningful information from images, texts, and videos. This helps retailers automate data collection and enrichment, enabling ROI-driven decision-making for a wide range of applications.
Extract, enrich, and organize product data from various sources for easy access by all applications
Tag products to ensure it is easily searchable & discoverable by shoppers
Assess the quality of product images to ensure they meet business guidelines in real-time
AI in retail has empowered businesses with high-level data and information that is leveraged into improved retail operations and new business opportunities. In fact, it is estimated that $40 billion of additional revenue was driven by AI in retail in a 3-year span.
Reduce costs and improve ROI with AI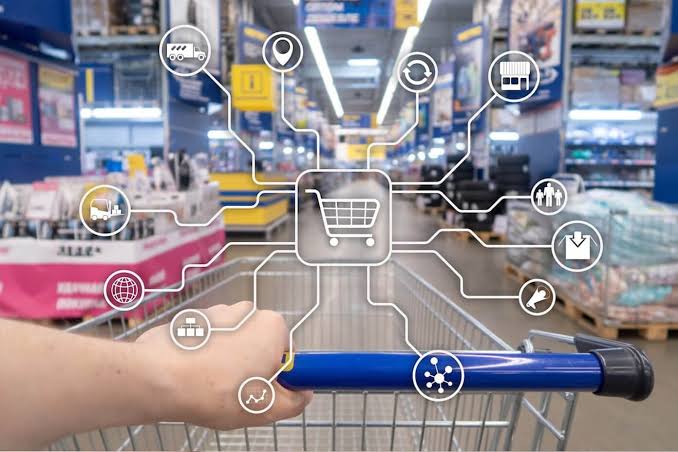 Enterprise Artificial Intelligence & Automation for Retail
Retailers across the globe trust our Digital Experience Management (DXM) suite as both their revenue growth driver and their cost-saving engine. They use the suite to personalize and curate the customer experience while also enabling end-to-end retail automation across site merchandising, product, eCommerce & marketing operations.
Benefits of Artificial Intelligence in retail:
Inventory & Content Management
Product Tagging & Content Generation
Taxonomy Management
Image Quality Moderation
Customer Experience Management
Site Personalization
Personalized Marketing
Personalized Search & Discovery
Intelligent Retail Automation
Product Photography Automation
Site Merchandising & Productivity Tools
Virtual Dressing Room
Impact Driven for Retailers
25x Average ROI for personalization customers
20% of Transactions for customers happen via our visits
20M Products purchased via our visit
Grow your online grocery business with AI
Bring the in-store grocery shopping experience online. Our AI understands your catalog in-depth and powers unique experiences based on every shopper's tastes & preferences.
Artificial Intelligence crafted to match grocery eCommerce business goals
Retail Insights allows every retailer to customize AI personalization models to work best for their business. The systems build nuanced flavor profiles for every shopper by learning from their actions on the site and mapping it to rich product data. Using this, the AI finds and brings to the surface through the shopping journey, the products in the catalog that the shopper would most likely purchase.
Impact driven for retailers
80% uplift in conversion rate
50% decrease in personnel requirement
85% reduced time to market
30% increase in unique product views
12.9% of total business revenue directly attributable to us
Customer success story: Leading FMCG Retailer, for instance, recognized the potential to enhance its customer engagement strategies by seamlessly merging loyalty data from both online and offline touchpoints. The retailer aimed to elevate recommendations and interactions spanning in-store, eCommerce, and mobile loyalty applications. To achieve this goal, they employed an innovative technique known as identity resolution, a process powered by AI. This groundbreaking approach allowed them to seamlessly integrate information sourced from diverse customer databases, culminating in the creation of a comprehensive Single Customer View, often referred to as the "Golden Customer Profile.
USE CASE :
Enhancing Customer Data Accuracy through Machine Learning-Based Duplicate Detection
Problem: Identifying and Removing Customer Records Duplicates
Your company has a robust database that has taken years to cultivate. The problem is there might actually be thousands of duplicate records hiding in plain sight.
Databases that contain duplicate customer records is a common problem. Marketers that have trouble achieving a single customer view see effective linkage as the main barrier to creating a truly customized, personalized, cross-channel marketing strategy. According to a 2021 State of Personalization Report, 60% of shoppers say they are "likely" to become a repeat buyer after a personalized shopping experience, up from 44% in 2017. Without achieving a single customer view, your marketing and sales team will face barriers in creating and developing personalization strategies.
As IMPACT reports, there are many ways that duplicate data can negatively affect your sales and marketing returns. For example, you could be spending double the money to reach the same customers twice, thus negatively impacting your outreach and appearing as spam. Other issues include a decrease in email marketing deliverability, customer confusion and frustration, and a lack of personalization.
The best practice marketing techniques require a single customer view, but duplicates can be difficult and time-consuming to find and correct.
Solution: Duplicate Detection Using Machine Learning
Duplicate detection machine learning makes it easy to identify when multiple records are likely to be for the same customer, making sure your database is in prime operating condition.
Eliminating duplicate customer records will allow your marketing and sales teams to deliver a clearer, more accurate, and customized message; saving your company time, effort, and money.
Why Retail Insights: Eliminate Database Duplicate Data with Ease
Considering doing a database cleanup without AI? Database queries for duplicates will not find spelling mistakes, typos, missing values, changes of address, or people who left out their middle name. The solution to these duplication problems is to use fuzzy matching instead of looking for exact matches. Fuzzy matching is a computer-assisted technique to score the similarity of data.
Before you get frustrated, consider that Retail Insights pioneered automated machine learning, and offers the most comprehensive, easy-to-use solution for optimizing and accelerating the development and deployment of AI applications. Our automated text mining and state-of-the-art algorithms are perfect for analyzing customer records, helping you turn an overwhelming administrative project into a focused task that adds immediate value.
Architecture:
Python: For machine learning and scripting.
Scikit-learn: Machine learning library.
Pandas: Data manipulation and preprocessing.
Fuzzywuzzy: Fuzzy string matching library.
Jaccard Similarity: Measure for set similarity.
Flask: Web framework for creating APIs.
AWS, GCP, Azure: Cloud platforms for deployment and scaling.
Let's get your database cleaned up and move ahead with confidence.
Contact us to know more.