Unlock the Potential of Headless Commerce with a Comprehensive Array of Features, Setting Your Business Apart from the Rest, Alongside a Ready-to-Go Storefront for Swift Expansion.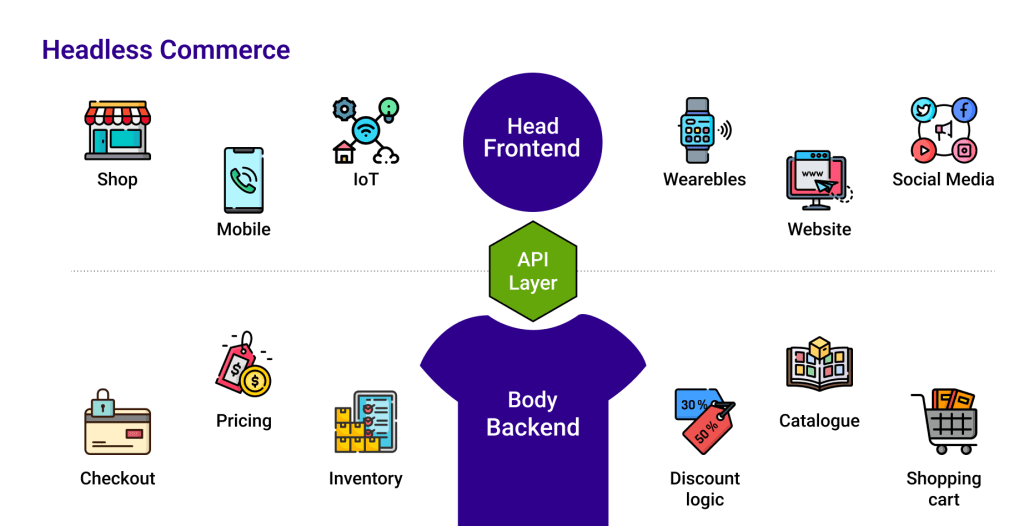 Centralized Commerce Hub
Experience ultimate control with a lightning-fast storefront and enterprise-grade SLAs that align perfectly with your ambitious objectives.
Built-In Product Information Management (PIM)
Effortlessly oversee your product catalog, pricing, and assets via a centralized PIM system, streamlining management.
Omnichannel Mastery
Empower customers with robust fulfillment options, enabling in-store pickups and returns for an enhanced shopping experience.
Subscription Magic
Initiate subscription-based retail commerce with our integrated subscription and membership features, adding a new dimension to your brand.
Visual Merchandising Excellence
Enhance customer engagement by visually organizing your product displays, either logically or using custom strategies.
Advanced Search Capabilities
Empower your search results with features like keyword redirection and synonym dictionaries for precise control.
Unrivaled Promotions
Craft offers unparalleled flexibility and precision to drive conversions and elevate customer interaction.
Multi-Brand, Multi-Vendor Management
Efficiently handle multiple brands and vendor product catalogs through a unified dashboard for seamless control.
Seamless Internationalization
Effortlessly take your brand global, leveraging cross-border features via a single intuitive dashboard.
Elevate Your Commerce with Retail Insights
A Game-Changing Platform Engineered to Transform Your E-commerce Scalability and Triumph.
Advanced Omnichannel Integration
Facilitate seamless integration and management of diverse sales channels, ultimately enhancing the customer journey.
API-First Philosophy
Seize endless integration and customization possibilities, powered by our API-first architecture.
Transparent Pricing
Experience complete clarity with our pricing model, eliminating surprises and ensuring your investment aligns with value.
Full Stack Commerce Solution
Architect a comprehensive end-to-end commerce stack for your D2C brand, leveraging our adaptable and headless commerce architecture.
Unified Platform for Multichannel Excellence
Effortlessly manage multiple domains from one control center, catering to local and global audiences alike.
Supercharge Your SEO
Enhance search result relevance, delivering tailored outcomes that resonate with customer preferences and satisfaction.
Captivating Lookbooks & Collections
Craft enticing lookbooks and curated product collections, guiding customers to discoveries aligned with their preferences.
360-Degree Customer Insight
Tailor your product information using customizable attributes, sets, and color groups, ensuring a personalized shopping experience.
Retail Insights: Is It Right for You?
Retail Insights works with large brands, retailers, and manufacturers that have outgrown their current tech stack and are poised for growth. For burgeoning retailers grappling with expanding product data volumes, streamlined workflows, and omnichannel sales, Retail Insights offers end-to-end solutions in data management, commerce, and supply chain management.
The Power of Headless Commerce Unveiled
Transitioning to Headless Commerce with Retail Insights is a transformative step. Our comprehensive suite, powered by headless ecommerce APIs, consolidates your sales channels. Embracing APIs facilitates digital modernization through microservices, steering clear of legacy monolithic platforms. This approach grants you a competitive edge, rapidly connecting third-party applications.
Diving into Retail Insights APIs
Our headless APIs, adhering to REST architecture and best practices, boast flexibility through loosely coupled microservices. Integration with Retail Insights APIs empowers retailers to craft a tailor-made e-commerce solution, fostering unity and operational efficiency.
Pre-Built Storefront: Your Launchpad
Yes, we offer an open-source, fully functional storefront that accelerates your launch process, eliminating the need for ground-up development. As a headless storefront, it seamlessly integrates with third-party headless CMS solutions or can be utilized with Retail Insights DXM.
Integrating Third-Party Storefronts
Absolutely, Retail Insights APIs readily align with third-party technologies and frameworks such as Next.js and more. Effortlessly connect these storefronts with our APIs or create an entirely new storefront in the programming language of your choice.
By embracing Retail Insights' Headless Commerce architecture and leveraging the capabilities of Retail Insights, you're setting your brand on a path to unparalleled scalability, customization, and success.
Our SERVICES: –
E-commerce Platforms — Implementations, Upgrades, & Migrations Integrations & Customizations Rescues & Stabilizations Maintenance & Site Operations/Merchandising
Data Services – Data Science (AI/ML), Data Engineering (Lakes, Clouds, Pipeline, and Platforms), and Business Analytics (Visualization/Insights)
Digital Application Development — Content Management (CMS) Order Management (OMS) Product Management (PIM) and Product Configurators Custom LINK Cartridges
Certified implementation partners for Salesforce Commerce, Adobe (Magento), Vtex, Fluent Commerce, Shopify, Blue Yonder (JDA), MACH Alliance, (M, E, A/R, N), and Azure, AWS, and Google Platform Data Engineering.
Discover Seamless Commerce with Headless Architecture
In the fast-paced realm of retail technology companies, staying ahead requires innovation and adaptability. This is where the convergence of mobile app development and Microsoft Azure-managed services comes into play, driving next-gen solutions. At the forefront of this transformation are omnichannel technology partners who pave the way for enhanced customer experiences.
Order management software and integrated solutions from a trusted retail software company empower businesses with streamlined processes. In this era of artificial intelligence in retail, predictive analytics and personalized recommendations are revolutionizing the shopping journey.
Navigating the landscape of retail solutions and technologies can be daunting. That's where retail consulting services shine, providing tailored strategies for growth. These consultancies specialize in crafting retail industry technology solutions that align with your business goals.
MACH microservices and the concept of MACH headless are shaping the future of commerce. Backed by robust data engineering, these approaches offer flexibility and scalability. The synergy of retail consulting and cutting-edge technologies empowers businesses to thrive.
In the digital age, an omnichannel e-commerce platform is not just an option, it's a necessity. Partnering with a ReactJS development company, you ensure a seamless and engaging user experience. This is where omnichannel technology solutions make their mark, enabling unified customer journeys and experiences.
Omni-channel marketing solutions play a pivotal role in reaching and engaging modern consumers. Whether it's a Magento website developer creating a stunning online presence or an e-commerce agency driving growth, the focus is on the customer. An omnichannel commerce solution weaves together touchpoints for a consistent experience.
When it comes to Salesforce Commerce Cloud integration, the possibilities are expansive. The fusion of cloud data engineering and robust analytics opens doors to omnichannel data analytics, uncovering insights that drive decisions. Digital commerce services empower brands to thrive in the online realm.
As businesses embrace e-commerce Salesforce solutions, the role of a Salesforce Commerce Cloud developer becomes pivotal. Expertise in Salesforce Commerce Cloud development ensures your online presence is powerful and efficient. The union of innovation and technology has propelled the world of commerce into a new era.