In the ever-evolving landscape of retail, adaptability is the key to survival. One remarkable example of this adaptability is the transformation undertaken by one of India's largest retail pharmacy and wellness product chains. Spearheaded by Adobe Magento Retail Insights, this groundbreaking Omni channel transformation has reshaped the way healthcare is delivered and experienced. Let's dive into the details of this remarkable journey.
Adobe Magento: Empowering Transformation
To initiate this grand transformation, the pharmacy retailer harnessed the power of the Adobe Experience Cloud Suite, a comprehensive toolkit that includes:
Customer Data Platform (CDP): Adobe Real-Time CDP
Marketing Automation: Adobe Market Engage
Content Management System (CMS): Adobe Experience Manager Sites
Digital Asset Management (DAM): Adobe Experience Manager Assets
Digital Commerce: Adobe Commerce (Magento)
Web Analytics: Adobe Analytics
Omni channel Analytics: Adobe Customer Journey Analytics
Customer Journey Management: Adobe Journey Optimizer
With these powerful tools at their disposal, the stage was set for a revolution in healthcare retail.
The Challenge: Elevating Customer Experiences
The healthcare industry has long grappled with the challenge of delivering customer experiences on par with other sectors. The urgency to address this issue was further heightened by the onset of the COVID-19 pandemic. In response, our pharmacy retailer embarked on a mission to provide personalized customer experiences at an enterprise scale.
The Execution: Bridging the Gap
Armed with the Adobe Commerce Experience Cloud, Retail Insights introduced a suite of omni-channel capabilities. This suite empowered pharmacies with a profound understanding of member health and behavioral data. The integration seamlessly fused in-store and digital experiences through automated prescription alerts, data-driven offers, and personalized loyalty programs.
Leveraging Adobe Analytics, the retailer gained invaluable insights into their customer base, enriched by a vast repository of data from approximately 100 million customer loyalty program members. Adobe Audience Manager played a pivotal role in creating intelligent customer segments, enabling tailored messaging via Adobe Campaign.
The introduction of subscriptions, refill reminders, hyper-localization, optimized order management, strategic promotions, and enhanced catalog management rounded out this transformative endeavor.
The Results: A Remarkable Revolution
The outcomes of this initiative were nothing short of remarkable:
A staggering 30% increase in mobile app usage: The convenience of accessing healthcare services via a mobile app resonated with customers, leading to a significant surge in usage.
A substantial 50% surge in digital traffic: The seamless integration of digital and in-store experiences attracted more visitors to the pharmacy's online platform.
An impressive 155 basis points increase in sales: Personalized offers, precise wellness recommendations, and streamlined prescription refills contributed to a substantial boost in sales.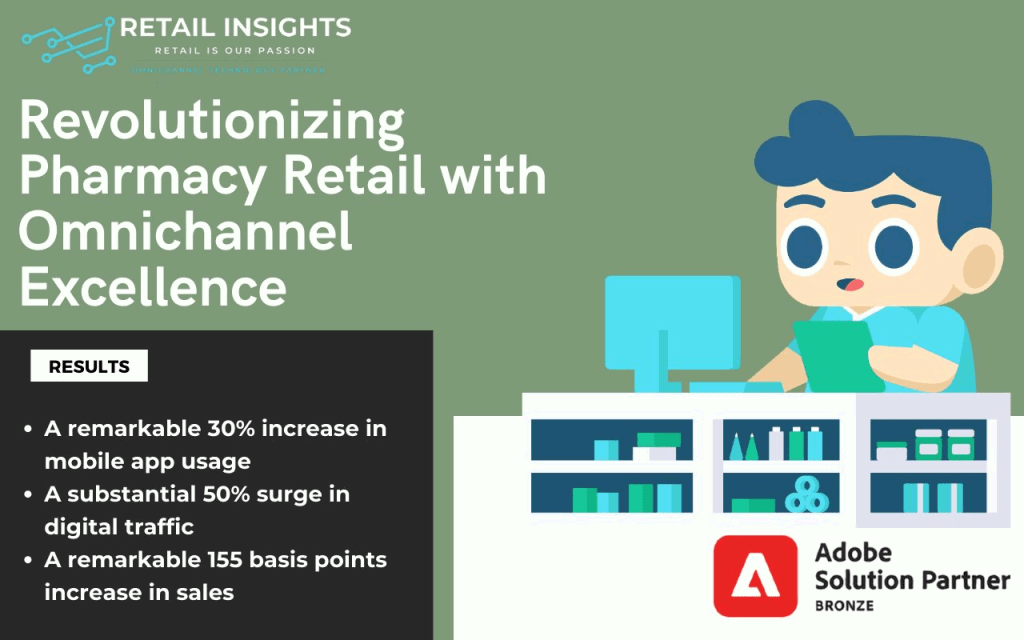 With the unwavering support of Retail Insights, the pharmacy retailer harnessed cutting-edge technology to reimagine the customer experience, rendering healthcare more personal and accessible on an unprecedented scale. Whether it's offering 24/7 pharmacist live chat, delivering precise wellness recommendations, or streamlining prescription refills for greater convenience and speed, each stride forward contributes to an enriched healthcare journey. Reach us to know more. Click here to know how Adobe Magento can help you set up your own grocery store.