Retail Insights understands the paramount importance of mobile-first platform experiences in today's ever-changing retail market. With our specialized expertise in Magento, we craft customer journeys that are mobile-friendly and built to withstand the test of time. Our team is dedicated to meeting your customized commerce needs, offering a wide array of services, including UI modifications, database changes, admin modifications, checkout process customizations, order management integrations, catalog checkout structure and functionality changes, migration, and much more.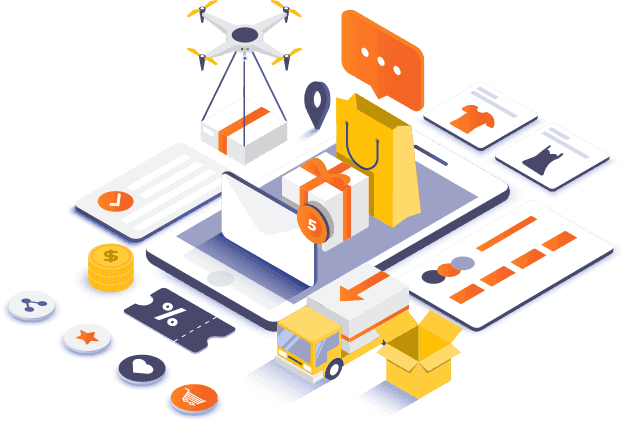 As seasoned Magento eCommerce web development experts, we have a proven track record of delivering high-quality eCommerce results across various Magento platforms. Our achievements speak for themselves, with over 30 certified Magento specialists, more than 80 successfully developed eCommerce websites, and 14 years of dedicated service.
At Retail Insights, we excel in integrating complex systems like ERP, PIM, CRM, and finance for a seamless and efficient business operation. Trust us for an easy transition and enhanced productivity.
Commerce (B2C & B2B)
Architecture Strategy
Migrating eCommerce platforms to headless
End-to-End Implementation
Configuration and customization of Magento
Custom coding for Visual Search, Bulk Emailing, SMS Notifications, etc.
Integrate with payment gateways and fraud mgmt. the system, OMS, EMS, Web Analytics tools, Reporting Tools, etc
CI / CD for the platform – Code Management
Performance Optimization / Administration
Holiday Readiness, Platform Support
Business Challenges:
Retail Insights took on the challenge of revamping an omnichannel commerce solution for a prominent international fashion retailer, powered by Magento, with the aim to enhance its growth, flexibility, and scalability.
The fashion retailer was on different back-end systems with varying load capabilities; they needed to be consolidated onto a single platform robust enough to handle sales spikes generated by the brand's "drops"—highly anticipated, limited-edition collaborations. Site CX fluctuated wildly, with inconsistent branding, limitations to the currencies accepted, and content that culturally missed the mark.
Suggestion for staff augmentation and an incremental approach to problem resolution. TRI provided highly targeted support—including a business analyst—to address each issue
Enhance order processing and fulfillment time to meet customer expectations.
Improve visibility across systems for more informed decision-making.
Achieve flexibility and scalability to support the retailer's ambitious expansion plans.
Integrate brick-and-mortar stores seamlessly and expedite onboarding of new sales channels.
Overcome the hurdles posed by disconnected legacy systems, streamlining operations.
Optimize redundant and inefficient process workflows.
Solutions:
Conducted a meticulous analysis, identifying common coding errors, and employed effective testing to address them.
Conducted an extensive architectural review, consolidating third-party application functionalities within Magento.
Leveraged innovative techniques to optimize website performance and reduce page load times.
Streamlined the integration of legacy stores, back-office operations, and external systems.
Successfully enabled seamless integration with SAP, catalog management, payment gateways, and more.
Revamped the UX of the multi-lingual e-commerce platform, introducing customer-centric features.
Re-engineered catalog and order management systems for improved efficiency.
Optimized same-day delivery, reducing warehouse pressures
Enhanced site stability and functionality through continuous improvements that spanned design, conversion rate optimization, and speed
Deployed Adobe Commerce Cloud support
Provided dedicated back-end and front-end support and a QA L3 support team
Instituted weekly backlog grooming sessions and production deployments
Technology Stack:
Languages and Framework: Magento, ApacheSoir
Databases: MySQL
Business Benefits:
Reduced warehouse pressures
Improved site stability & functionality
Immediate team support
Developed a clear and strategic e-commerce roadmap for the fashion retailer.
Established a well-connected ecosystem, bridging the gap between offline and online channels.
Achieved significant operational efficiency with a scalable architecture, accommodating growth.
Optimized product synchronization processes, ensuring up-to-date inventory information.
Streamlined order processing, leading to faster and smoother transactions.
Implemented an efficient logging and notification mechanism, enhancing communication.
Retail Insights' Digital Retail Capabilities:
Commerce Transformation
E-commerce Sites
Mobile Apps
Payment Solutions
Magento & Hybris Solutions
Commerce Integrations
Back office Solutions
Customer Testimonial:
"TRI team helped us align our checkout performance online and we're thrilled with the results we've seen since implementation. The enhanced online presence has allowed us to increase exposure to our growing customer base and existing brand enthusiasts."
With Retail Insights' expertise, the fashion retailer witnessed a remarkable transformation, equipped with a mobile-first platform and tailor-made Magento solutions. This digital makeover positioned the retailer for long-term success in the dynamic retail market.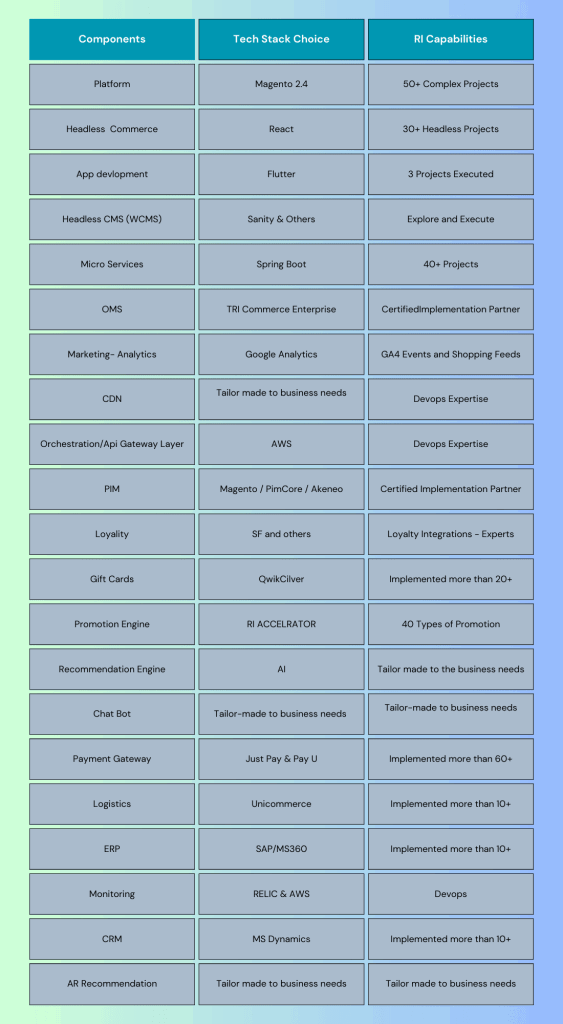 Magento Specialist in India
Looking for the best Magento e-commerce specialist in India? Then look no further and contact us today.