Asda is trialing a "virtual queuing" initiative as it prepares for social distancing measures to last well after the lockdown has ended.
Retail Insights launches 'virtual queuing' system as retailers prepare for social distancing to last "for the rest of the year"
The new virtual system, the first of its kind, will allow users to book a place and log into a virtual queue with their phones.
They will then be able to wait in their car, avoiding the extended queues which have become commonplace across supermarket carparks, and be alerted when they are allowed to enter the store.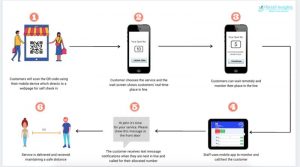 How our solution works:
Retail Insights Virtual Queue Solution is convenient and can be easily deployed to help customers to be a part of the virtual queue by scanning the QR code posted on entrances, waiting for their turn safely, getting real-time notifications and updates of their place in a line and once their turn arrives they will be notified via SMS.
Get in touch with us today for further assistance and clarifications for our virtual queuing system, our retail experts are ready to assist.
#retailinsights #retailinsights #retailtransformation #directtoconsumer #retailstrategy #smartretail #unifiedcommerce #salesforcecommercecloud #digitalcommerce #omnichannel #retailsolutions #ecommerce #retailexperience #supermarket