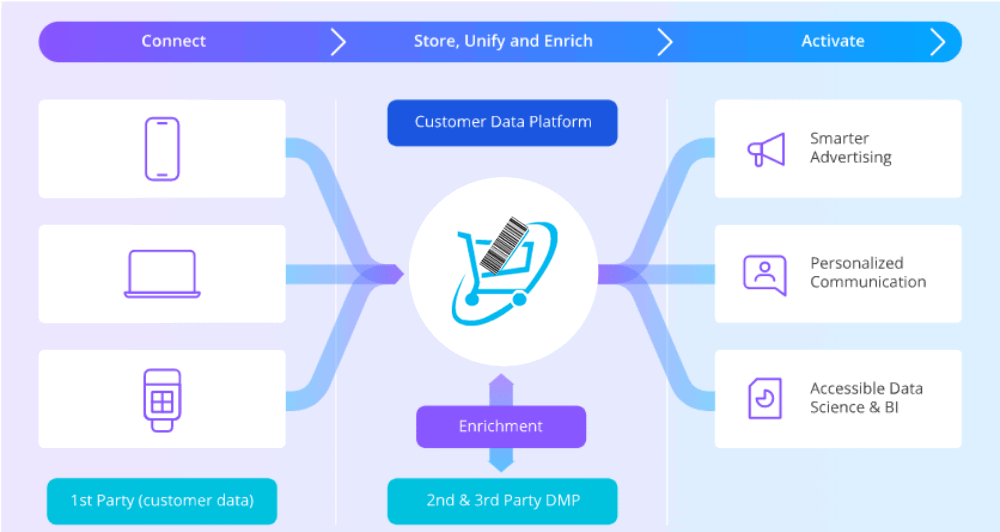 Most companies do not have their own data environments connected in real time. It results in disconnected experiences for consumers and the lack of a single source of truth about customers for the marketeer. The solution for these problems can be found in a CDP platform. Retail Insights is the best customer data platform company in Dubai.
A Customer Data Platform (CDP) platform connects all the company's customer data in one place. That means not only connecting a single customer ID from many different CRM instances.
A CDP brings together the information we have about our known customers (like email and mobile numbers) with what we know about customers before they share their data with companies (anonymous cookies and mobile device IDs, for example). That allows us to associate an interaction between an email campaign with the company's website. 
The aim of a CDP is to enable true cross-channel personalization and customer journeys. To provide the fully rounded view of your customers needed to do this, it integrates with your existing CRM. This allows you to analyze and act on everything you've learned about your customers, in one place.
Implementing a CDP ensures your personalization efforts are based on a comprehensive understanding of how your customers behave. Increased engagement and conversions are a natural result.
Retail Insights is an Award-Winning Global Omni Channel Technology (Software) Company implementing Experience Commerce with Edge Computing and providing multiple technologies to its retail clients worldwide. While Retail Insights will continue to adopt composable approach solutions (using the best-in-class technology) for Omni Channel Experiences.
Retail Insights always look at synergizing our expertise to offer the best practices, including innovation labs, test automation factories, big data analytics, AI & ML practices, cloud technologies, and more.
We at Retail Insights are excited to expand our focus by working closely with Adobe Commerce Cloud, Salesforce Commerce Cloud, Blueyonder, Kantar Trade Promotion, etc to provide and Deliver Digital Edge Capabilities – Platform Strategy, Software Engineering.
Top CDP Software Providers
Retail Insights helps businesses build an Omnichannel approach by collecting and analyzing data from a variety of sources and unifying customer data across multiple online channels. The idea is to offer businesses a complete and integrated view of customer journeys across all touchpoints.
Users can connect customer data across marketing, analytics, and data warehousing tools. Its features include reporting and analytics, cross-channel automation and personalization, and industry-specific solutions (including for the retail sectors, eCommerce, etc.). The different CDP platforms vary according to the need and sector.
Retail Insights, it starts with the small, medium, and enterprise levels. The pricing for each plan changes according to the industry, but interested users need to contact the Retail Insight team for a custom quote.
8 Benefits of a Customer Data Platform (CDP)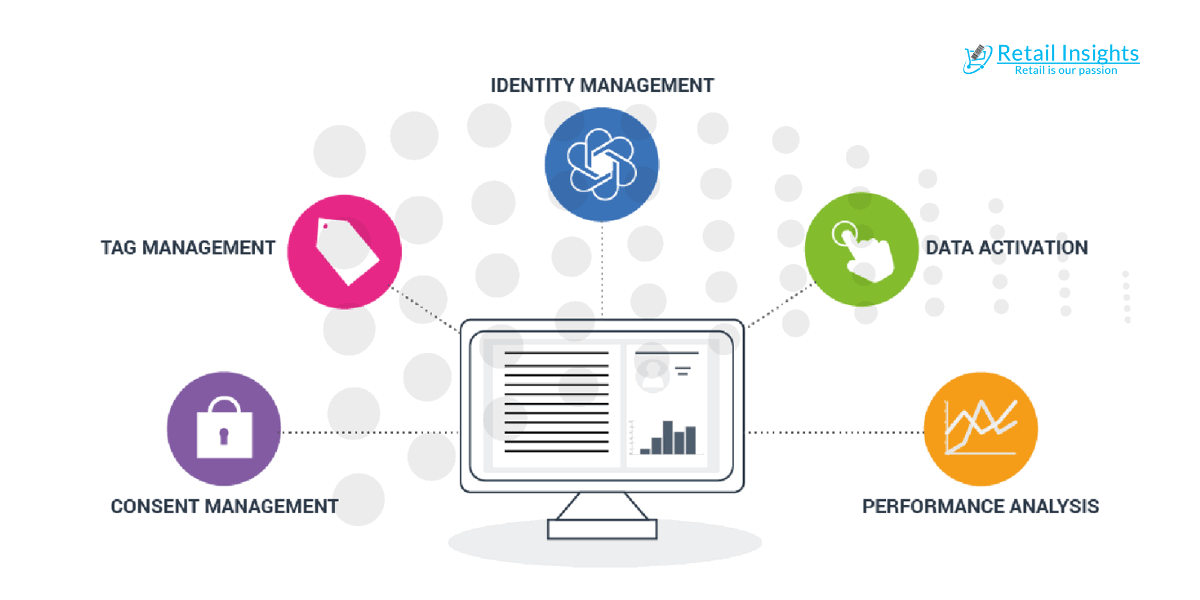 In CDP, data from different sources are stored and used to integrate applications and analyze data. A CDP helps businesses to understand their customers since it creates a truthful and unified view of customer behavior, transactions, and products.
1. One Place – All Data
Companies often struggle to combine and utilize all the data they gather. Especially since data streams are coming from several different sources, it is not possible to get the full picture of the information that is not centralized.
To become more customer-centric, they need a single view of the customer. We at Retail Insights integrated all the different data sources like Salesforce Commerce Cloud, Adobe Commerce Cloud, and other sources into CDP.
2. 360-Degree View Of Customer
A 360-degree view of the customer allows companies to identify every part of the customer journey, products, and transactions. It supports the company in understanding consumers and their behavior.
All relevant information (coming from several sources like shipping, orders, reviews, or complaints) about the consumer is shown to the agent, directly after the purchase already. Consequently, the company can offer a quality service.
This 360-degree view is one of the reasons why it gives a higher level of satisfaction resulting in increased loyalty and bigger chances of returning.
3. Increased Revenue
If used in the right way, CDPs result in the final goal of a company: a rise in revenue. By implementing data from all sources, the enterprise can create a complete view of the customer. Therefore, the opportunity of well-targeted marketing to people with the right message may result in increased brand recognition and customer engagement.
4. Finding new audience segments
It's easier to segment your customers and audiences and to apply basic and advanced analytics. Even though the customer data management platform itself does not do the segmentation.
While working with all the data, they might find new possibilities for audience segments like online spenders, loyal customers, or discount shoppers. Marketers can then divide each of these segments even further with factors like gender, age, and location. And reach similar audiences. Because the sections are smaller, the targeting may be more specific and messages more customized.
5. Campaign optimization and long-term learning
The customer data platform allows for gaining insights into the performance of specific campaigns. By implementing a customer data platform, marketers can see the efficiency and outcome of the campaign they want to analyze. Marketers can improve their attempts of promoting the product or service for the next time by gaining an in-depth understanding of the last ones.
Every time a campaign can be favorably improved by making use of the customer data management platform, the company can learn and improve its efforts for the next time. The budget is saved and conversion rates may increase in the future.
6. Reduce vendor lock-in dramatically
The way Retail Insights builds out customer data platforms is by loosely coupling the applications. The persistence of your data is primarily in the information lake. In this way, it is easy to switch apps since the migration is smooth. No wonder since the data is persistent in the CDP.
7. Cost-saving
The cost of applications like SalesForce, Adobe commerce ( Magento ) is partially related to the data stored in these applications. Since the data is mainly persistent in the customer data management platform and not in the app, you might reduce costs.
8. Compliance
Having the data in one place is an enabler to becoming GDPR and E-Privacy compliant. It allows your company to anonymize your contacts. Customer Data Management platforms support data portability and data insight requests as these tasks can be executed with one source.
Customer Data = Customer-Driven Marketing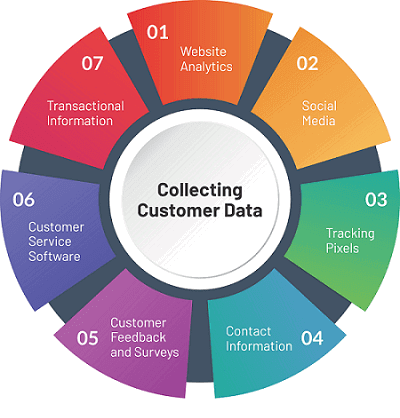 Without customers, you wouldn't have a business. They truly belong at the center of all that we do, especially your marketing … and in order to place them front and center, we need real, raw customer data.
Customer Data Platforms deliver the immediacy, accuracy, and unity that we need to keep aligning our organizations, inspiring our marketing, and engaging our customers. Connect with us today for the best customer data platform company in Dubai.
Contact: sales@theretailinsights.com ; Call : +91 99 4587 2535
Visit Us: https://www.theretailinsights.com/