Salesforce is a dynamic digital transformation company and it has expanded its partnership with Retail Insights to leverage and offer more digital commerce solutions to its B2B and B2C customers.
As traditional commerce architecture is tightly coupled with out-of-the-box commerce storefront templates, requiring developers to synchronously modify both front-end and back-end code.
On the other hand, Headless commerce separates the infrastructure layer from the APIs, decoupling the underlying commerce engine from the UX/UI layer for faster, asynchronous development.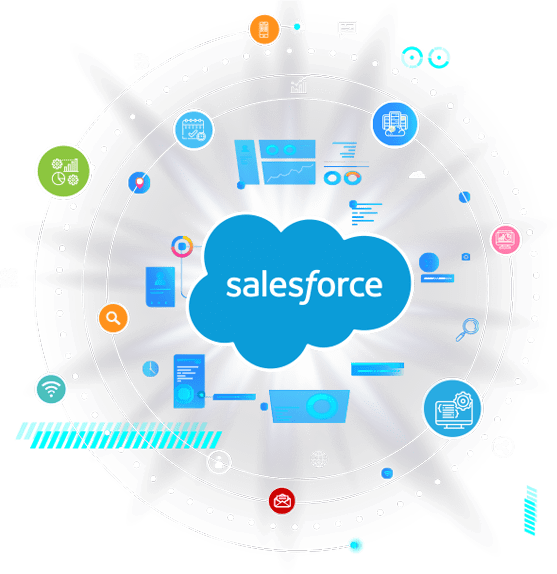 Retail Insights is a Salesforce Commerce Cloud (Demandware) certified partner and having a skilled team that is proficient in Salesforce commerce cloud (Demandware) cartridge development and leveraging Product information Management, Order Management Solution, Loyalty and CDP/DMP Expertise, and many more.
Salesforce Commerce Services we offer:
Salesforce Integration

Salesforce Automation

Salesforce Configuration

Salesforce Migration
The Future of Commerce: a Frictionless – At Retail Insights, many companies we work (5+ Years on Commerce/Demandware Implementations) maximising customer lifetime value, Building outstanding Customer experiences that are done right every single time, across every single sales channel True Omni Channel Engineering.
Retail Insights is an Award-Winning Global Omni Channel (Digital) Technology Agency.
Below are some of the key SalesForce commerce cloud features that will help you scale up your business and drive conversions:
Global Reference Storefront – Reference Architecture
Platform Customization
Enterprise Integration for Reconciliations
Leverage PIM wit

h

Order Management
Enabling new Geos and Internationalization
Conversion Optimization
Enabling Store and Warehouse Fulfilments – Buy, Sell and Return Anywhere
Order Orchestration, Splits and Routing (Drop Ship, Dark store)
Customer 360 – Build customer profiles all channels
Headless Integrations for masters, ERP sync with Commerce
Price and Promotion Flexibility
Reconcile shipping information, purchase orders, Stock and payment terms (4-way match)
Retail Insights Certified commerce Platform experts assist to go omnipresent in a quick time. Transform as in "King of Convenience"
The partnership aims at synergizing their expertise to offer the best practices, including innovation labs, test automation factories, big data analytics, AI & ML practices, cloud technologies, and more.
Happy to set up a discussion to share our experiences with Worlds Leading Beauty and Fashion Brands in assisting the Digital journey with Country-Specific rollouts and localization viz. India, GCC, and Europe (Non-English).
Visit us @ www.theretailinsights.com
sales@theretailinsights.com || WhatsApp – +91 9945872535
#retailinsights #omnichannel #ecommerce #retailtechnology #magentocommerce #digitalcommerce #salesforcecommercecloud