Retailing is defined as a set of activities or steps used to sell a product or a service to consumers for their personal or family use. It is responsible for matching the individual demands of the consumer with the supplies of all the manufacturers.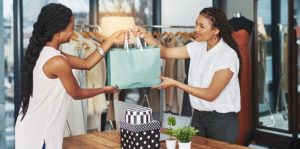 Retailing has become such an intrinsic part of our everyday lives that it is often taken for granted. The nations that have enjoyed the greatest economic and social progress have been those with a strong retail sector. Why has retailing become such a popular method of conducting business? The answer lies in the benefits that a vibrant retailing sector offers—easy access to a variety of products, freedom of choice, and high levels of customer service.
Retailing encompasses selling through the mail, the Internet, and door-to-door visits—any channel that could be used to approach the consumer. When manufacturers like Dell Computers sell directly to the consumer, they too become retailers.
In an era of globalization, liberalization, and a highly aware customer, a retailer is required to make a conscious effort to position himself distinctively to face the competition. This is determined to a great extent by the retail mix strategy followed by a company to sell its products.
The role of retailers in the present competitive environment has gained the attention of manufacturers because external parties, such as market intermediaries and supplying partners are becoming increasingly powerful. It is thus, necessary for the marketers of consumer products to identify the needs and motivations of their partners in the marketing channel.
8 Reasons Why New Retailing Methods Are a Must – Buy, Sell and Return Anywhere
1. Customers aren't comfortable
2. Maintained customer relationships
3. Reintroducing the human element
4. Staggered selling of products and services
5. Inventory management efficiency
6. Staying competitive in a changing landscape
7. Complete customer-centricity on all channels
8. Evolving with the retail industry
For the best Retailing solutions talk to our Team of Architects and Business Analyst to experience how we have helped tier 1 Retailers/Brands from Retail Survivalists are NOW "The Kings of Convenience"
Mounir KHALLOUK
Retail Insights (Your Omni (or Digital Officer)- Where Technology Meets Retail/Brands.
Retail Insights is a Salesforce Commerce Cloud (Demandware) certified partner and having a skilled team that is proficient in Salesforce commerce cloud (Demandware) cartridge development and leveraging Product information Management, Order Management Solution, Loyalty and CDP/DMP Expertise, and many more.
For more information Click Here
www.theretailinsights.com || sales@theretailinsights.com || WhatsApp – +91 9945872535
#omnichannel #retailtechnology #digitalcommerce #retailinsights #retailsolutions #magentocommerce #salesforcecommercecloud #retail