Retail Insights for Salesforce Commerce Cloud – INTEGRATED COMMERCE CLOUD WITH ERP, OMS, PIM, POS, AND 3PL SYSTEMS.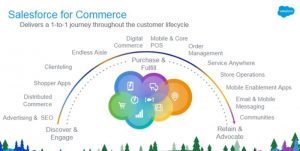 Talk to our Domain Experts and Commerce Architects to move from Retail Survivalists to "The Kings of Convenience"
Ansha Faizal Shalaka Tayade Raghavendra H M Faizal Hassan
· Multi-Store/Vendor – Supplier relationships, multiple suppliers for order and realization
· Enabling Store and Warehouse Fulfilments – Buy, Sell, and Return Anywhere
· Multi-Store Front, Ref App, Localization, Borderfree Commerce
· Order Orchestration, Splits, and Routing (Drop Ship, Dark store)
· Customer 360 – Build customer profiles from all channels
· Headless Integrations Sync with Head Office Apps
· Reconcile shipping, purchase orders, Stock, and payment terms (4-way match)
Retail Insights (Your Omni (or Digital Officer)- Where Technology Meets Retail/Brands. We are the top Salesforce commerce cloud partner in India, UK, USA & Dubai.
To Know more CLICK HERE
sales@theretailinsights.com ||www.theretailinsights.com|| WhatsApp – +91 9945872535
#retailinsights #omnichannel #ecommerce #retailtechnology #magentocommerce #digitalcommerce #salesforcecommercecloud