Traditional commerce architecture is tightly coupled with out-of-the-box commerce storefront templates, requiring developers to synchronously modify both front-end and back-end code.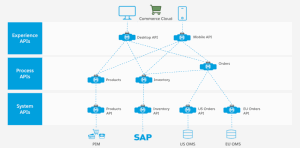 Headless commerce, on the other hand, separates the infrastructure layer from the APIs, decoupling the underlying commerce engine from UX/UI layer for faster, asynchronous development.
And what lies at the core of headless commerce are APIs and API-led connectivity.
Retail Insights componentizing the business and using commerce APIs to deliver services between the front and back end, brands have the flexibility to power a wide range of omnichannel experiences.
Talk to our Commerce Architects and Business Analyst to experience how we have assisted tier 1 Retailers/Brands from Retail Survivalists who are NOW "The Kings of Convenience". We provide you with the best headless commerce platform services. Contact us today for the headless commerce platform services
Retail Insights (Your Omni (or Digital Officer)- Where Technology Meets Retail/Brands.
sales@theretailinsights.com ||www.theretailinsights.com|| Watsup – +91 9945872535