Easy inventory management and order processing for online merchants. The backbone of your eCommerce business is the ordering system and we provide the best Order Management System in UK
While a Customer Relationship Management (CRM) system is useful to track your interactions with customers, order management software helps to improve the effectiveness of the sales process itself. The errors and delays often formed by manual handling of orders are removed, resulting in a more positive customer experience all around.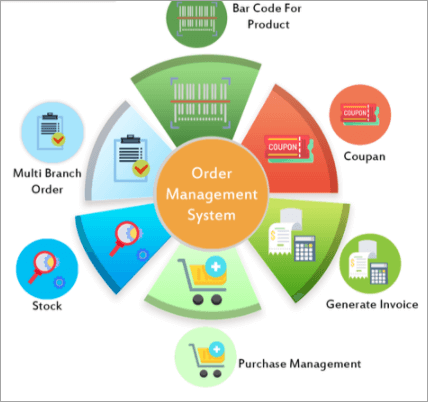 The demand for simpler, frictionless sales interactions is rapidly growing within the consumer goods sector. Without the right order management system, a lack of customer data when you need it can cause valuable cross-selling or upselling opportunities to be missed, or customers to be lost to a competitor.
Order management systems enable operators to manage orders coming in from multiple sales channels, and going out of multiple fulfillment points. Retail Insights provide the best Order Management System in UK
It's a cross-channel operation management tool. Order management systems give store managers and individuals at every level of an organization the power to oversee their operational activities, no matter how big or small they are.
Every day, order management systems help organizations with complex multi-channel operations stay on track and get the most out of their resources by minimizing excess inventory, reducing stockouts, improving forecasting accuracy, maximizing reorder point activity, and maximizing sales throughput.
Order management systems typically come with the following features:
Order management systems provide a variety of features that can be configured in unlimited ways to meet specific business needs. With these customizable features, managers can manage orders from multiple channels. For e.g
Centralized order management
Multiple payment gateways
Inventory management
Fulfillment and shipping integrations
Customer management
Ability to sync with the retailer's shopping platform
Key benefits
The features can be configured in any way to address the needs of different businesses. It depends on how your business sources, moves, stores, and delivers products to your customers. Each business has unique goals and challenges; an order management system can be implemented to fit the unique needs of each business. The result is better order management for a business.
With Retail Insight, our clients haven't just been able to manage growth and explore new marketplaces, they've transformed as a business and thrived by lowering costs while increasing productivity.
Increase in monthly orders with no additional costs
Increase in average monthly online orders
Increase in active customers
Increase in annual turnover
Increase in annual net profit
Increase in monthly order processing
Synchronized data across your business
For multichannel retailers, the ability to sync data across multiple platforms is vital. This is especially the case when it comes to ordering management. Our system helps to centralize your customer's actions in real time, allowing you to handle your sales from a single location.
The real-time aspect of our system ensures that decisions can be made fast, and information passed along is accurate for all members and customers of the business.
Scalability to grow
Retail Insight helps growing merchants operate like large-scale corporations, but at a fraction of the cost! Optimize your fulfillment workflows with bulk shipping label creation, omnichannel inventory management, automated dropshipping, automation rules, supplier management, advanced analytics, open API, and more — all in one platform.
Retail Insight is the #1 technology company that shelves point solutions; aims to engage, resolve and support the day-to-day challenges of our Omnichannel customers. We make a wonderful team driving next-generation retail solutions.
Our expertise stems from a combination of global perspective, domain & industry knowledge, Retail thought leadership, and next-gen technologies, which makes management & inventory control easier than ever for online merchants.
Suitable for businesses looking to scale and bring structure to their everyday operations. Seamless integrations with Salesforce commerce cloud, Shopify, Adobe Commerce Cloud (Magento), Fluent Commerce, Blue Yonder, etc
The vast experience in the Order Management Software industry spanning more than a decade has helped us implement many states of art order management systems that have transformed complex, multi-channel operations into smooth and streamlined operating models.
To Conclude
Most of the larger small businesses want to use such subscription-based software but only some of them do – now you need to decide which category are you in?
Build a Solution approach, to stitch a myriad of different systems such as order management software, shipping carriers, accounting software, reporting tools, customer data, and warehouse management.
The retail Insights tech team helps your business to do the heavy lifting of O2O integrations, development, and automated testing workflows and processes.
Connect with us today on how we solved Inventory Challenges for retailers/brands with the right technology stack and implementations. We provide the best Order Management System in UK.
Retail Insights pure-play Omni Channel (Digital) technology company
Visit Us: https://www.theretailinsights.com/Contact Us : sales@theretailinsights.com || WhatsApp – +91 9945872535