In today's fast-paced and competitive business landscape, finding the right talent with the right skills, within your budget and at the right time, can be a daunting task. However, worry not!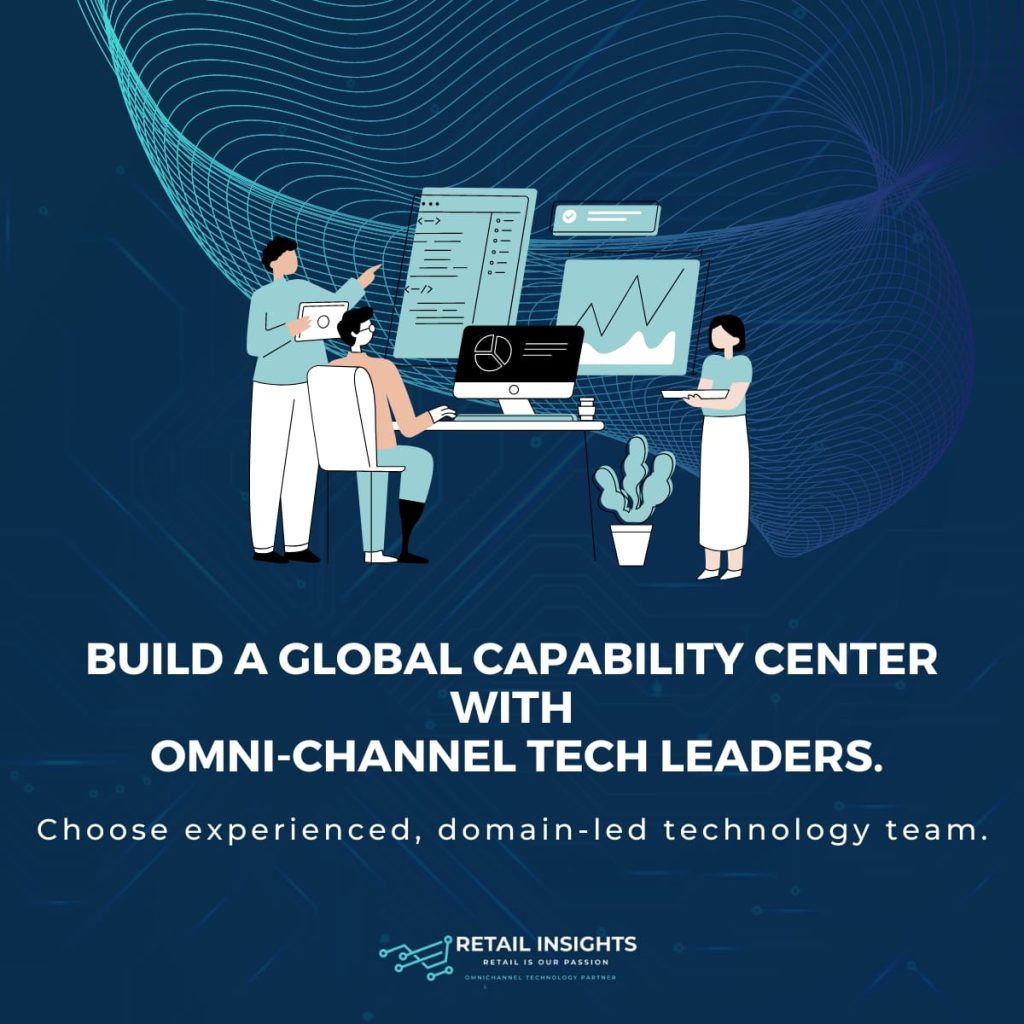 We Are Shaping "The Future of Retail": Our innovation centers around the world bring together the best minds in marketing, product, technology, and business to imagine and deliver revolutionary solutions to the industry's toughest problems.
End-to-End Provider: We support clients with strategy, platform selection, deployment, and hosting through ongoing support. We offer a single retail techno-functional expert resource to help companies succeed in an ever-changing digital commerce landscape.
With our expertise in building offshore technology teams, we provide top-notch developers and IT delivery that perfectly aligns with your requirements.
Hungry for Frictionless Experiences: A chance to become tech-savvy and run your business with the right solution and technology architecture. High-performing tech working models with domain and technology consultants.
Highly Automated Teams: Development and Operations, Co-Build – Developing Internal Tech Skills.
First of all, People who understand the Domain of Technology owe themselves to the job and strive for perfect software engineering while leveraging the most effective technology.
We do not spend time in bureaucracy; instead, we move fast with small teams, where everybody acts like an owner.
What Makes a "Perfect" Omnichannel Technology Partner: Full Transparency, Approach that makes a difference with proprietary accelerators and dedicated development centers, resources that satisfy each business need. Every project is executed in a dedicated branding space. Strongly protected security to accelerate business growth. Experience, Innovation, Teamwork, and Responsibility.
There is still one more thing, "Retail is Our Passion."
Your Next Offshoring Team is Not Just a Service, It Must Be an Omnichannel Technology Growth Partner.
Outstanding Quality: Good Projects, Cutting-Edge Technologies, and top companies as clients. With Retail Insights, you can be assured of exceptional quality in all our services. Our team of developers possesses the expertise and experience to deliver high-caliber solutions that align with your vision.
No-Cost Experts: Certified Partnerships COEs, Salesforce, Adobe, Blueyonder, Kantar Xtel, Fluent Commerce, Intel, Google, Adobe (Magento), Fluent Commerce, Shopify, Blue Yonder (JDA), MACH architecture (M, E, A/R, N, Full-stack development, Java Spring, Django/Python), React Native, Flutter, Edge Computing (AI/ML).
When you partner with us, you gain access to a pool of experts at no additional cost. They are dedicated to working closely with you to understand your unique needs and deliver top-notch results.
Control and Flexibility:
Maintaining control and flexibility in your business operations is crucial for success. With Retail Insights, you can retain full control over your projects while benefiting from the flexibility to scale your team up or down as needed. We understand the dynamic nature of business, and our delivery model empowers you to adapt quickly to changing market demands.
IP Protection and Security:
We prioritize the security and protection of your intellectual property. At Retail Insights, we have robust measures in place to ensure the confidentiality and integrity of your valuable information. You can confidently collaborate with our team, knowing that your intellectual property is in safe hands.
Technology Mastery:
Finding the right mix of digital tools and exploiting emerging technologies for successful omnichannel retail execution. Domain plus Technology Consultants, Certified Partnership COEs, Smart Architecture, High-Performing Tech Working Model.
Our team of developers has a deep understanding and mastery of the latest technologies. Whether you need assistance with Angular, ReactJs, NodeJs, PHP, Shopify, Salesforce, or any other technology, we have the expertise to handle it all. Leverage our tech-savvy professionals to enhance your digital presence and stay ahead in the market.
Conclusion:
Leading companies across industries worldwide trust Retail Insights for their offshore technology team needs. Our dedication to outstanding quality, access to no-cost experts, control and flexibility, IP protection and security, and technology mastery makes us the perfect partner to transform your business. With our experienced developers, you can expect faster turnaround times and solutions that perfectly align with your business objectives.
Don't let the challenges of talent acquisition hinder your progress. Choose Retail Insights and build a technology team that exceeds expectations. Contact us today to embark on a journey toward success in Offshore Technology in India.