The rise in Customer expectation means that success is dependent on robust technology that delivers an enjoyable
shopping experience
.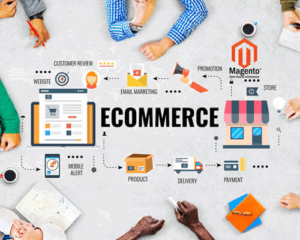 The Main Challenges
Draw customer attention
Meeting timelines and budgets
Rewriting the existing code
Frequently changing requirements
Keeping pace with rapidly evolving technologies and choosing best tools
Maintaining customer relationship
Solution
Magento as a platform
Flexibility and feature-rich functionalities
Accelerators, customizable on a single platform
Supports different languages, currencies and tax calculations
Built-in reporting feature, good search engine
Reducing manual intervention
Automate product catalogue, supplier
Deliver coupons over mobile phone
AWS Hosting and Deployment
Business Impact
Improved core business
Reduced time to market and technology cost
Help customer to move to traditional to digital business
Automated with a reduction in manual effort
Want an e-commerce platform for your business? Contact us today.